Juvenile Justice Jeopardy:
Testing Youth Understanding of the Law
Juvenile Justice Jeopardy helps youth navigate interactions with peers and police and understand the legal consequences of their actions.
SFY's Juvenile Justice Jeopardy Game
Juvenile Justice Jeopardy™ (JJJ) teaches youth how to navigate interactions with police and peers, understand the legal consequences of their actions, as well as strategies for desistance from peer pressure to engage in risky behavior. The game also teaches youth the short and long term legal consequences of having arrest and court records. The game takes 90 minutes to play and is aimed at being realistic: that is, it focuses on what happens in police/youth interactions.
Derived from the television Jeopardy game, JJJ offers youth an opportunity to explore what they think they know about the juvenile justice system and how the media portrays teen violence and criminality to them—and how much they believe it. The game is customized to each jurisdiction's laws.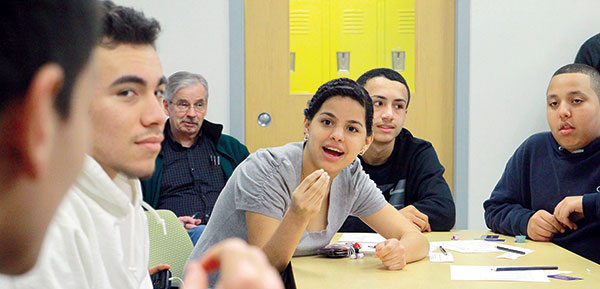 Kids Know the Law, Right? Wrong!
Many adults assume youth know what is right or wrong, legal or illegal. Many youth are certain they know the law, their rights, and how to interact with law enforcement. 
All too often, both assumptions are wrong.
These views can lead to an escalation of interactions with officers and assumptions by officers and other authority figures that youth are intentionally defying the law when, in fact, they are often doing what they perceive is legal.
Download JJJ Game Overview to learn more.
What Do People Say About JJJ?
This game teaches us how to navigate interactions with the police. The game also teaches youth valuable information about the law and helps us interact with our peers bringing us closer together. For example, I would have never known about Miranda warnings, degrees of murder, how laws differ from state to state, or certain charges for certain crimes if I hadn't played the Juvenile Jeopardy game. In my opinion, there are not many places where young youth can learn these kinds of skills unless a child has been groomed at an early age and prepared for these interactions with law enforcement, but even then there are some things about the law that you won't learn.

"I love presenting JJJ with the youth here. They really get into it and seem to not only learn a lot, but ask great follow up questions as well."

"Protests, vigils, and marches certainly bring us together and serve as rallying points for us to speak about the changes necessary in our community. However, they don't always provide teachable tools for us to gain a better understanding about how to prevent and avoid situations that negatively impact our community. Juvenile Justice Jeopardy provides the tools to assist our youth in learning about their rights, what to expect when interacting with police, and how to avoid certain behaviors that may impact their future."

"There was one especially hard-headed boy who always gets in the middle of things he should stay out of. He used to be so sure of his rights and that he knows the law better than police do. But after he played this game, he said he stopped himself from getting involved in his friends' interactions with the police. He said he realized he should walk away. Usually the kids who are most outspoken, 'the billy badasses', are the most affected by this game and they tell me it stays fresh in their mind for quite a while."

"At some point in their lives, every teenager comes into contact with police, and a lot of teens make decisions without thought to the consequences. JJJ helps them think ahead and avoid some of the pitfalls."

"I had the privilege of assisting Commander Waters with presenting JJJ to a conference of Probation Officers and not only did we enjoy doing the Juvenile Justice Jeopardy [JJJ] presentation but the response was absolutely amazing. People are crying for this program and the energy of desire for JJJ was unbelievable. I had not previously presented with Commander Waters before and the passion that both of us have for bringing this type of program to the community could be felt throughout the audience."

"Juvenile Justice Jeopardy helps kids understand the best way to handle interactions with peers and police officers. The Children's Law Center has been playing JJJ with Kentucky and Ohio youth since 2016. We consistently get great feedback about the game, with descriptions such as 'truly innovative activity,' 'educational and lots of fun too,' and 'you guys had their attention in a way that I had never seen before.' As a former public defender and current Managing Attorney at the Children's Law Center, JJJ is, without question, my favorite training game to play with the youth we serve."

"It's tough for a School Resource Officer to talk about the law for an hour to a group of kids, but with JJJ these kids are absolutely engaged. We ask the kids—what don't you like about this law? We don't just look for answers and move on, we explain the reasons for our actions. Now kids who wouldn't normally feel comfortable visiting my office stop by to talk and ask me questions."

"Juvenile Justice Jeopardy is a fun and interactive platform. I like to incorporate current events and ideas. This isn't just about policing, it also includes information on sex trafficking, social media, fake news, and bullying—issues kids need to understand and deal with in practical ways."

"Most of the stuff I didn't know so I got a good experience in this game. It was fun and I liked it."
GAme Content is Customized
SFY typically develops two versions of the game for each jurisdiction. One version focuses on "street" issues youth are likely to encounter. The second version uses school districts' school code of conduct to explain rules and laws that apply in the school setting.
SFY develops an ad hoc group of stakeholders to focus questions on issues that lead to the greatest number of arrest of youth. Once consensus is reached, SFY provides on-site game leader trainings.
Download The JJJ Game Process to learn more.
Interested in offering JJJ at your organization?​
For more information or to find out how you can offer JJJ at your organization contact Strategies for Youth.
It brings out their competitive spirit.
They like to test what they think they know about the rules—and are surprised at how wrong they are!  
After playing the game, youth feel more empowered about how to successfully interact with officers.
Youth learn new strategies to avoid risky activities with peers.
Why Youth-Serving Organizations Like JJJ
JJJ gives youth practical advice about how to behave when interacting with police officers.
Through playing the game, youth get a better idea of the serious consequences that arrest and a juvenile record can have on their future.
Young people are getting a lot of misinformation from friends, family, and the media about the law and how to interact with police. JJJ helps set the record straight.
JJJ helps kids understand how laws in their state might apply to their conduct.
Youth who have played JJJ are more open to talking with officers when they have a problem.
Officers learn how youth perceive the law.