Slide 1
The Strategies for Youth Model is Unique.
Slide 2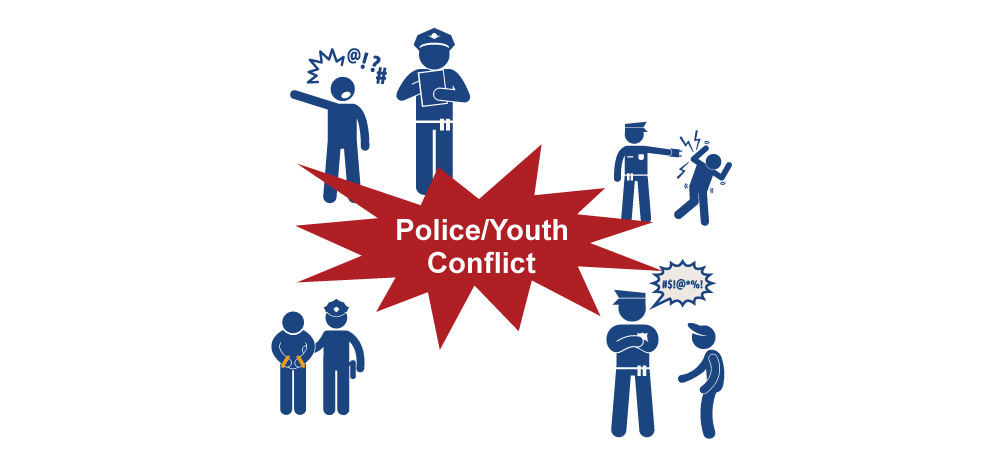 Strategies for Youth creates pathways for improving police-youth interactions by ...
Slide 3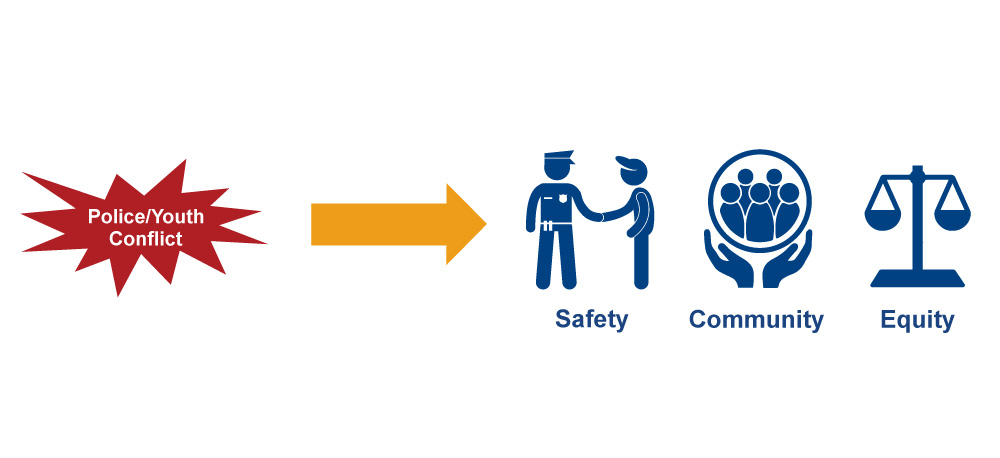 ... using training tools and outreach programming to move officers and youth from conflict to safer interactions.
Slide 4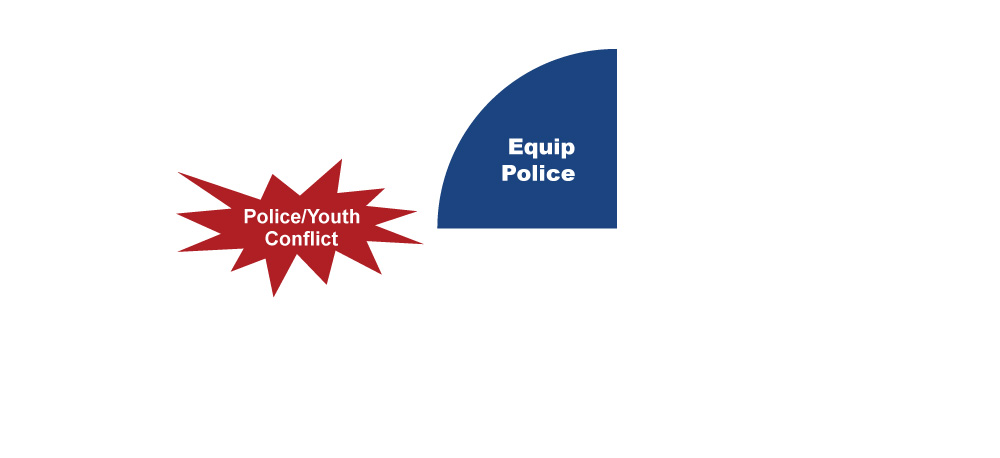 Our Policing the Teen Brain training provides officers with tools and skills to work more effectively with youth.
Slide 5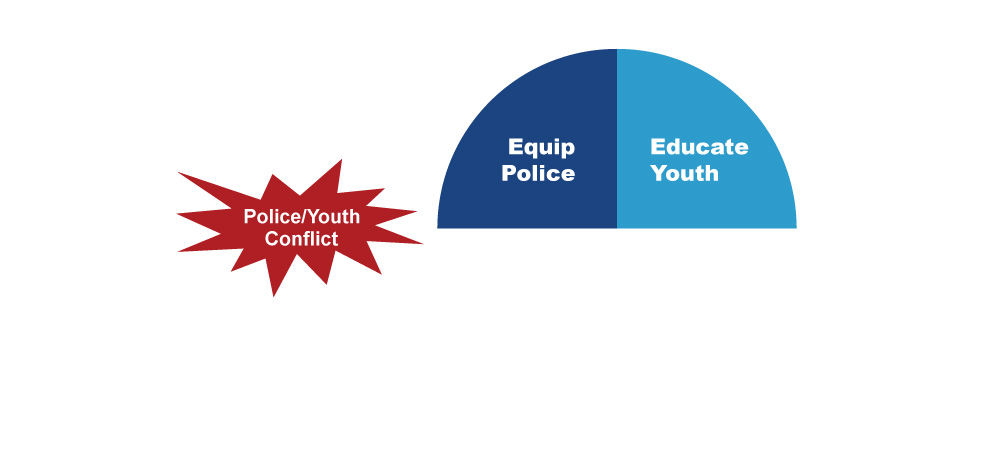 We use a game call Juvenile Justice Jeopardy to educate youth about the potential consequences of their actions.
Slide 6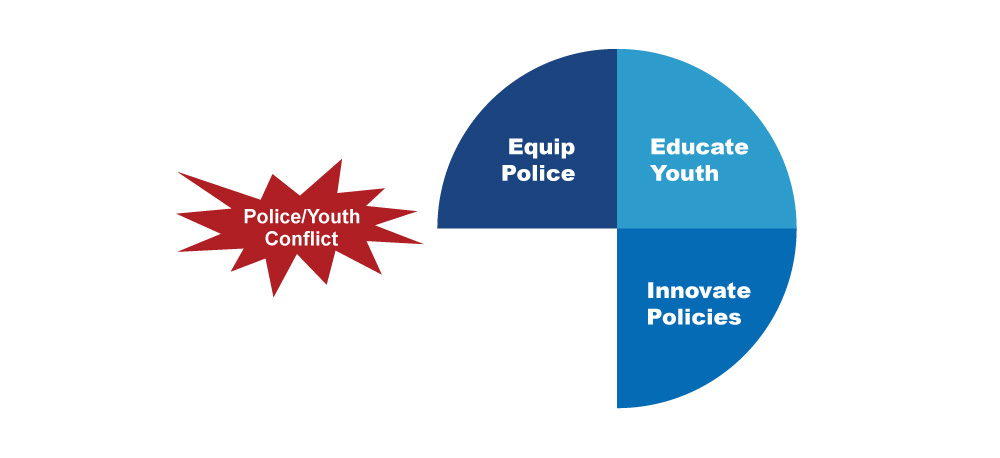 Our work centers around developmentally appropriate, trauma-informed, and racially equitable approaches for policing youth.
Slide 7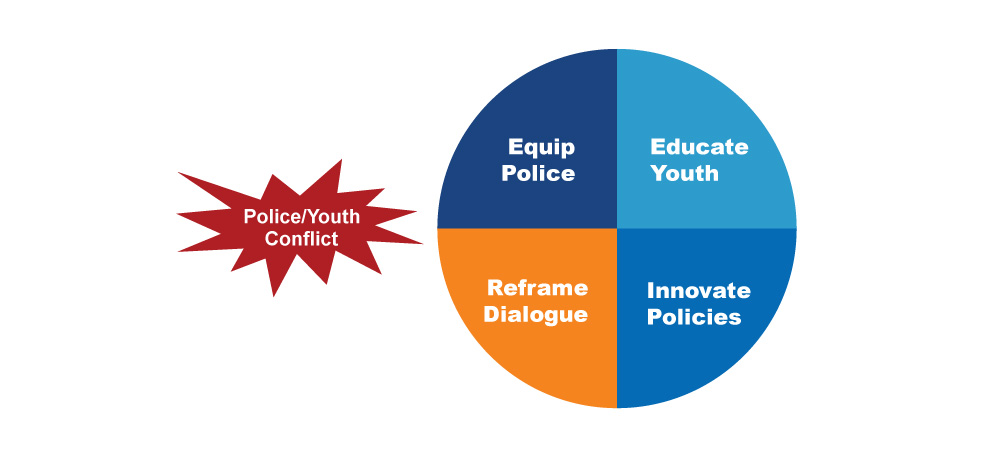 Through research reports, opinion pieces and speaking engagements, we promote using a developmentally appropriate approach to policing youth.
Slide 8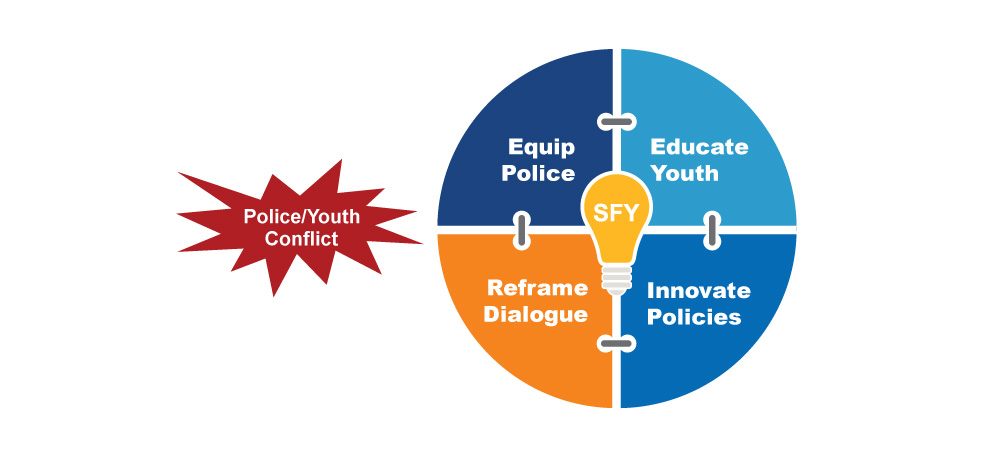 We link law enforcement with youth-serving community resources to create additional support for youth and families.
Slide 9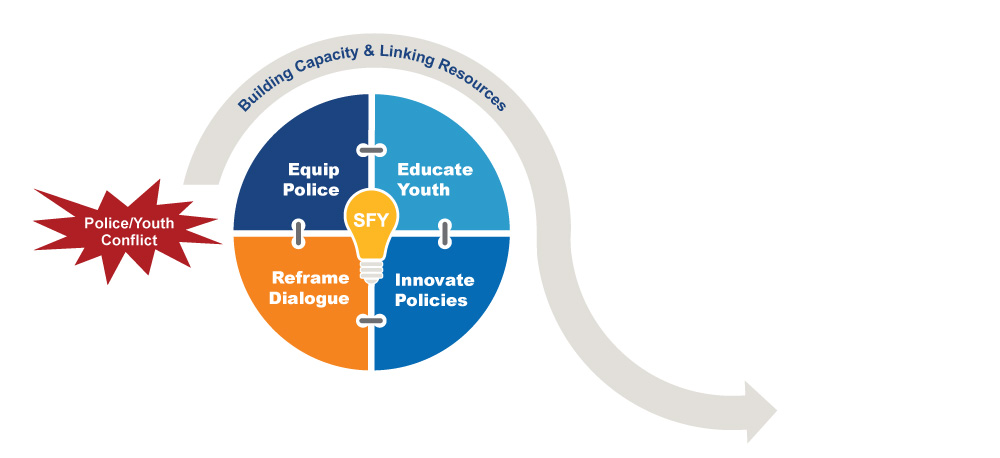 By building capacity and linking officers with resources...
Slide 10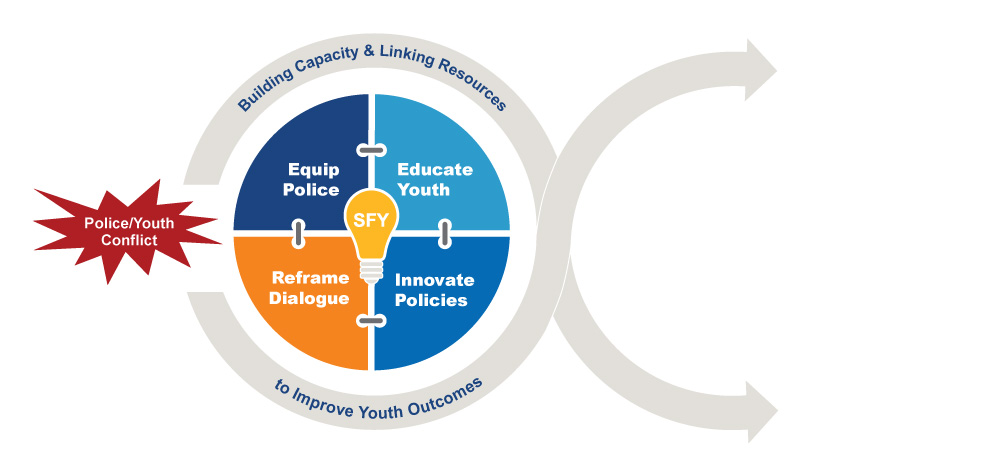 ...communities feel safer and police and youth interactions improve.
Slide 11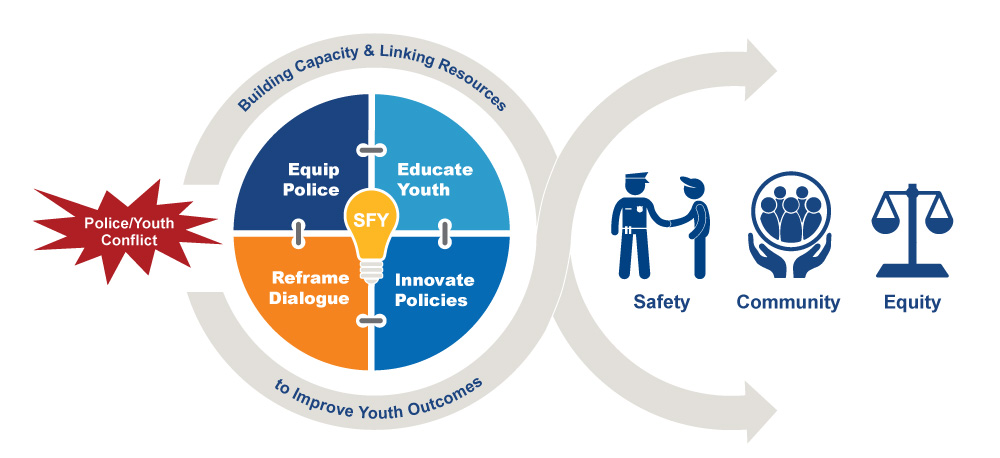 SFY's results are tangible: public safety improves, communities become more cohesive and there is greater equity in policing of youth.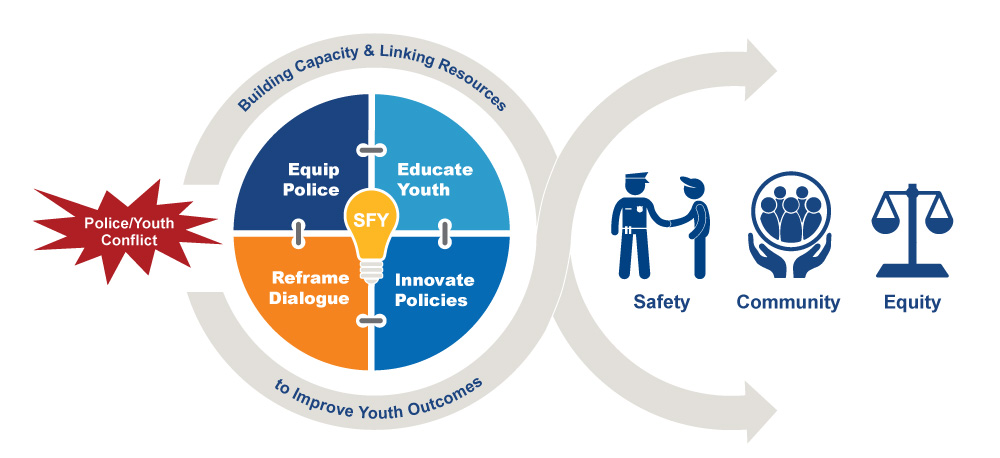 Strategies for Youth actively engages police, youth, and youth-serving community-based organizations in an interdisciplinary approach to addressing several problems: the proliferation of contentious encounters between police and youth, unnecessary arrests of youth for minor offenses, and disproportionate police contact with youth of color.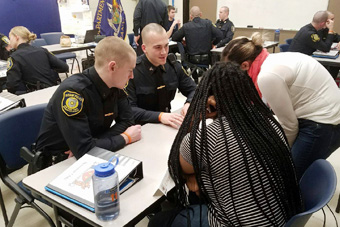 MISSION
Strategies for Youth is a policy and training organization dedicated to improving police/youth interactions through community engagement, police training, outreach programs for youth, and proactive use of multi-disciplinary approaches to problem solve and build relationships between police and youth.
VISION
Strategies for Youth's vision is to expand and strengthen the network of support for youth, particularly those living in disadvantaged communities. We seek to reorient the role of law enforcement officers to "guardians" who work in partnership with community-based organizations to address the social, emotional, and health needs of families and youth. Ultimately, SFY sees itself as a system change agency, and as a means to improve overall public safety and community well-being.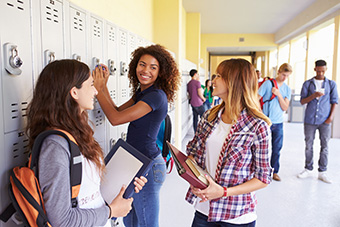 DEVELOPMENTAL COMPETENCY
Developmental competence is based on the premise that specific, sequential stages of neurological and psychological development are universal. Children and adolescents' responses differ from adults because of fundamental neurobiological factors and related developmental stages of maturation.
In order to become developmentally
competent, an individual must:
UNDERSTAND that children, adolescents, and adults interpret and respond differently to situations, social cues, interpersonal interactions, and the inherent power of adults, making them more vulnerable to external pressures and more compliant with authority;
APPLY this knowledge to enhance and improve interactions with children and youth and;
ADJUST institutional responses to the developmental stage of the children and youth served.
SFY places a priority on improving outcomes for youth—particularly youth of color—who are at high risk of arrest and violent encounters with law enforcement officials. Our strategies include:
Training law enforcement in effective strategies for interacting positively with youth. SFY teaches officers about adolescent psychology, including how to recognize signs of mental illness and trauma, and how to de-escalate situations and avoid use of force, while weaving in issues related to racial bias.
Promoting partnerships between community-based organizations and law enforcement to connect youth and their families with a network of available services.
Teaching youth through Juvenile Justice Jeopardy about the legal consequences of their behaviors, and how to engage effectively and peacefully with law enforcement officers.
Building public momentum for policy reforms that institutionalize a positive youth development approach in law enforcement through research and publications.