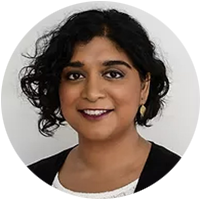 Nanda Prabhakar
Nanda Prabhakar currently serves as Senior Vice President of Program Operations at the Mission Society of New York Society, one of the nation's first and oldest social service organizations. In this role, Nanda oversees Mission's four programmatic divisions—Education & Program Development, Contracts & Outcomes, Children's Programs, and Career & Education Pathways—which support a portfolio of youth development and education programs that serve thousands of young people throughout Brooklyn, Manhattan and the Bronx.
Prior to joining the Mission Society, Nanda acted as the Coordinator of Social Work Services for the Office of the Kings County District Attorney, overseeing and providing alternative to incarceration programming for Brooklyn youth charged with violent felony offenses in the juvenile and criminal justice systems. She sits on the boards of the Red Hook Initiative, the National Association of Social Workers – NYC Chapter and is an Adjunct Professor with Fordham University's Graduate School of Social Service.
A Brooklyn, NY resident, Nanda holds a Masters of Public Administration from Baruch College, a Masters of Social Welfare from the University of California, Berkeley, a Bachelor of Arts degree in Anthropology from Bryn Mawr College and is a Licensed Clinical Social Worker.