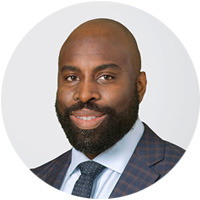 Duvol M. Thompson
Duvol M. Thompson is a litigation attorney in Holland & Knight's New York office and a member of the firm's Litigation and Dispute Resolution practice.
Mr. Thompson's experience includes defending complex litigation claims in state and federal courts covering subjects such as commercial contracts, business torts, financial services and putative class actions. Mr. Thompson also is experienced in insurance and reinsurance litigation, as well as coverage disputes.
Mr. Thompson has experience with all facets of litigation, from pretrial discovery, including witness preparation and interviews, to taking and defending depositions, motion practice, and trial and appeals. He has successfully tried matters as lead trial counsel and defended them on appeal thereafter, first-chaired mediations and negotiated settlements for corporate clients.
His representation includes the defense of a multinational energy company in an environmental litigation and insurance matter, where the claims involved historical environmental contamination of groundwater and soils. During the multiyear representation, Mr. Thompson managed all aspects of discovery, including case strategy, motion practice, depositions, document productions and management, and retention of vendors and expert witnesses. The nature of the claims also required successfully obtaining discovery from state and federal agencies.
Mr. Thompson has also expanded his practice to include real estate, including advising clients seeking foreclosures as well as litigation. His practice also includes preparing agreements for television, film and similar media projects.
In addition, Mr. Thompson was a member of the New York City Bar Association's Judiciary Committee, for which he evaluated judicial candidates for election, re-election, appointment and reappointment to judicial office.
Mr. Thompson was recently named a 2019 Fellow of the Leadership Council on Legal Diversity (LCLD). LCLD is a program created to identify high-potential attorneys from diverse backgrounds and offer training to help advance the next generation of leaders in the legal profession.
Prior to attending law school, Mr. Thompson was a two-time All-Ivy League and All-American cornerback at the University of Pennsylvania. He also played professionally in the National Football League (NFL).
While attending law school, Mr. Thompson was a board member of the Black Law Students Association (BLSA), a member of the Brendan Moore Trial Advocacy Team (competition team) and a member of the Environmental Law Review.