Training to Avoid Tragedy
Now, more than ever, we see the consequences of bad interactions between police and the communities they serve. When encounters between police and youth go wrong, the individuals, their communities, and all of us pay a steep and sometimes irrecoverable cost.
Something is tragically broken. But at Strategies For Youth, we know there is a way to fix it.
SFY released a groundbreaking report on the use of tasers on young people. Tasers are frequently used on youth who are unarmed, engaged in minor or no criminal activity, in distress or emotional crisis, and pose no public safety threat. The results can cause severe and permanent injury, and in some instances, death.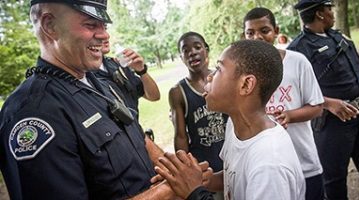 Strategies For Youth's training reduces contentious encounters between police and youth, unnecessary arrests of youth for minor offenses, and disproportionate policing
of children of color. 
Forging Partnerships with Law Enforcement
Check out our recent report, Forging Partnerships with Law Enforcement: A Guide to Juvenile Detention Reform, which includes helpful implementation tools for JDAI stakeholders.
Teaching youth how to interact with law enforcement – Juvenile Justice Jeopardy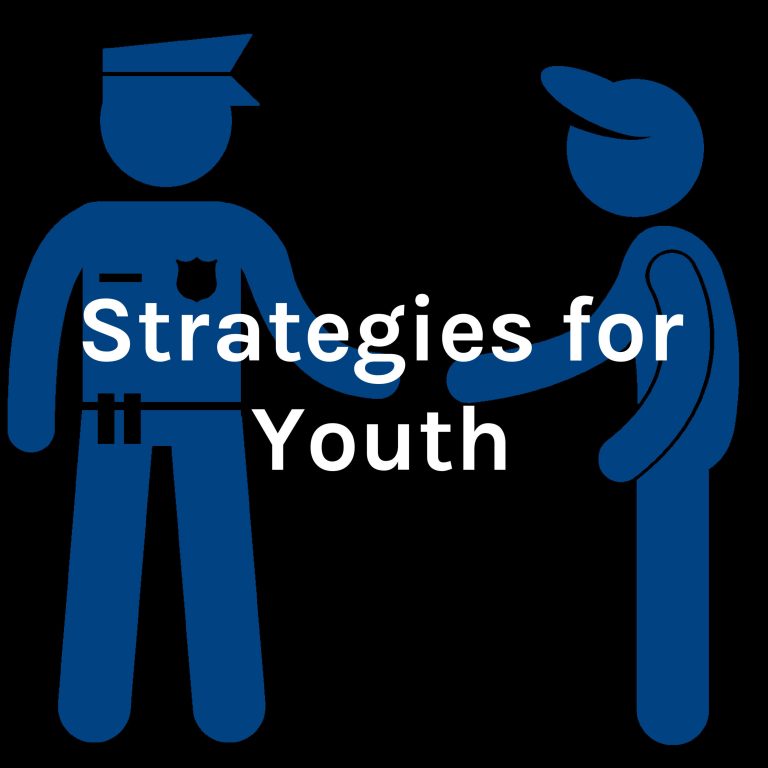 Search Results placeholder
Policing kids is hard. There's scientific reason for that: kids' brains aren't developed (and won't be until they are in their mid-20s) so they act more impulsively, take risks, and often make bad decisions. But training for encounters with youth amounts to 1% or less of the total training officers receive.
And schools don't teach children how to interact with law enforcement, and even well-meaning advice isn't always the right advice.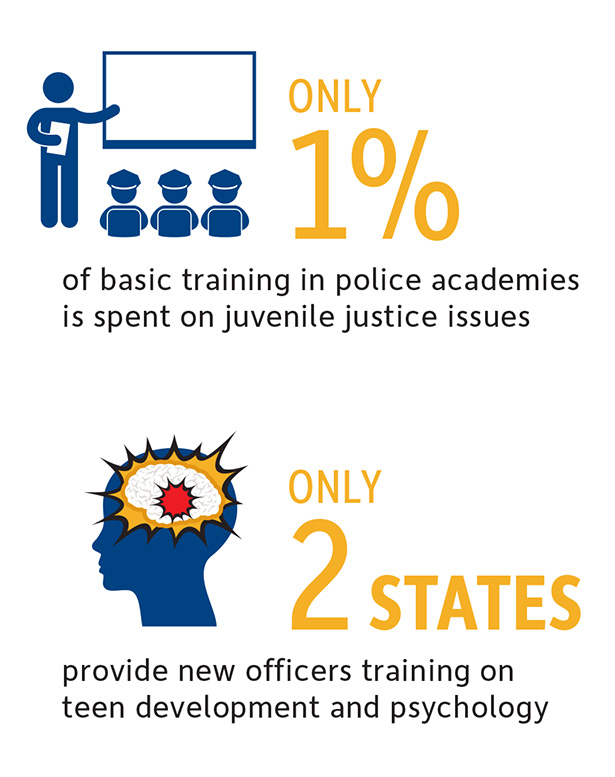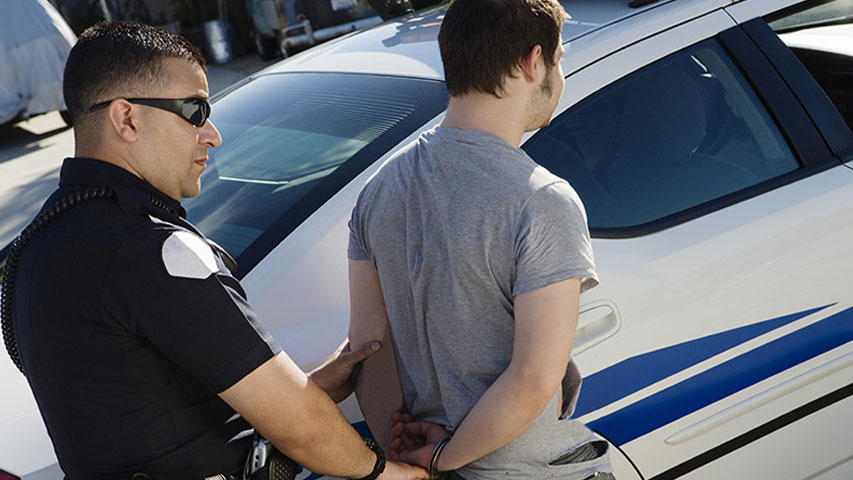 When contentious interactions occur between cops and kids, when there are racial disparities in policing, law enforcement's relationship with the community is severely damaged and hard to heal, making police work more difficult.
Once involved with the juvenile justice system, a young person's future is at stake: their risks skyrocket for dropping out of school, substance dependency, homelessness, early pregnancy, and criminal behavior as an adult.
"Whenever there is interaction between the police and juveniles, it garners a lot of attention. And if that attention is negative, it chips away at the trust we're trying to build with the community."
– Peter Newsham Chief Washington DC Metro Police Department
In communities where Strategies for Youth has worked, we've seen that developmentally appropriate, trauma-informed, and racially equitable training for youth and and law enforcement officers and agencies can lead to up to a 84% decline in juvenile arrests.
Strategies For Youth provides trainings for youth to learn about the law, the behaviors and actions that put them at legal risk, and the consequences of engaging in risky behavior. We help build their confidence and set the groundwork for positive interactions with police.
Training For Law Enforcement
Strategies For Youth advocates for law enforcement officers and agencies and we teach officers how the adolescent brain works, how young people feel and make decisions, how trauma affects kids' behaviors, and how to deescalate encounters with youth.
Strategies For Youth interventions provide practical and safe approaches that save lives, families, and money. Your support helps to make that happen.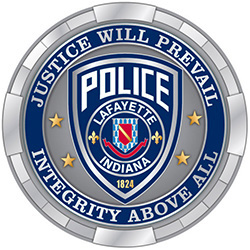 Lafayette (IN) Police Department
"Policing the Teen Brain has been the best training that I've been to for a long time. It has not only been put to use at work, it's been invaluable when dealing with my own kids." I have heard this from almost all of the Lafayette Police Officers that have gone through Policing the Teen Brain [training]."
— Kurt Wolf, Captain

Tippecanoe County (IN) Youth Services
"In Tippecanoe County, Indiana, we have witnessed a 31.7% decrease in total resisting law enforcement, disorderly conduct and battery against law enforcement charges from 2013 to 2015. The only thing that has changed during this time frame was the implementation of Policing the Teen Brain and Juvenile Justice Jeopardy in our community. These strategies impact how law enforcement approaches youth (Policing the Teen Brain) and how youth approach law enforcement (Juvenile Justice Jeopardy)."
— Rebecca Humphrey, Youth Services Executive Director and Tippecanoe County JDAI/DMC Coordinator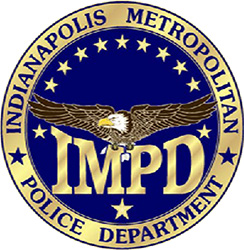 Indianapolis Metropolitan Police Department
"Two Indianapolis businessmen provided funding to replicate Juvenile Justice Jeopardy. They recognized that this game does what schools use to do, and then some. Our youth are rarely taught how to interact with police officers. This game, by simply teaching them how to behave and warning of consequences associated with their behavior, has been helpful in changing young people's views of police interaction. This game has truly proven to be a Godsend for us."
Read Full Endorsement Letter »
— Richard A. Hite, Chief of Police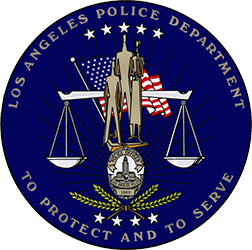 Los Angeles Police Department
"In addition to training officers, SFY's approach connects officers with community based organizations that serve the youth. This makes officers realize there are alternatives to arrest and there are places in even most challenged communities that are safe havens for youth. When community leaders and police offer talk sense together with some of our city's most vulnerable youth, the outcomes for public safety improve dramatically."
Read Full Endorsement Letter »
— Charlie Beck, Chief of Police
— Robert F. Green, Deputy Chief Commanding Officer, Operations-South Bureau