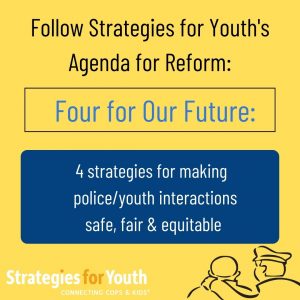 Follow our campaign on social media: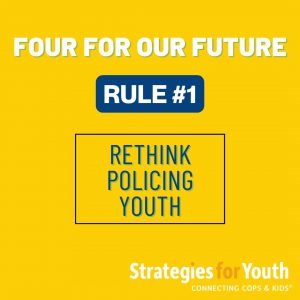 Ban arrests of children under age 12.
Don't escalate situations.
Know how to de-escalate.
Avoid use of force with youth.
Use age-appropriate language whe interviewing, interrogating and providing Miranda warnings to youth.
False confessions produced by fear are not good for public safety.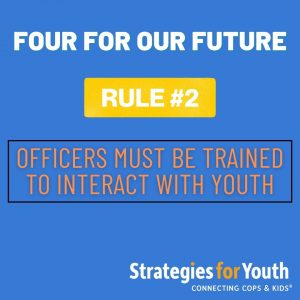 Every American officers uses developmentally-appropriate interactions with youth.
American officers use trauma-informed practices when interacting with youth and their families.
American officers use racially-equitable practices when interacting with youth.
Every law enforcement agency must adopt developmentally-appropriate, trauma-informed, racially-equitable policies and hold itself accountable to enforcing them.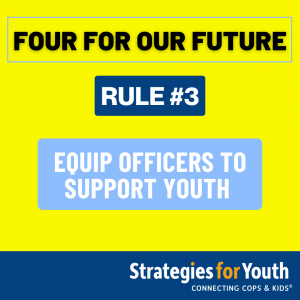 Law enforcement uses alternatives to arrest.
Law enforcement agencies and officers partner with youth-serving community-based organizations to support youth in need.
Invest in safety nets for youth: schools, enrichment, jobs = safe youth.
Teach and empower youth to avoid system involvement.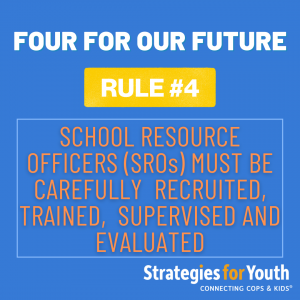 Decisions about SRO deployment in schools cannot be made without community input.
All policies for officers' use of force, arrest, and parent notification must be publicly available.
Police in schools must be trained in developmentally-appropriate, trauma-informed, racially-equitable approaches.
Data on the impacts of the presence of school police must be collected and made public.
Strategies for Youth's Agenda for Reform provides policy, practice, and funding recommendations at the local, state, and national levels to reform how law enforcement agencies engage with youth. We fully support proposals aimed at reducing the overall footprint of law enforcement and increasing public investments in healthcare, housing, education, and social services for communities.