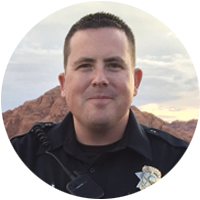 Matt Smith
Police Training Consultant
Matt Smith has worked in law enforcement for 7 years. Currently he works as a patrol officer serving the City of Richmond, Indiana, where he is also an instructor and Field Training Officer. Matt previously served the citizens of southern Nevada as a State Trooper for the Nevada Highway Patrol.
Matt earned his undergraduate degree in Criminal Justice from Indiana University. At this time Matt is completing his Master of Public Administration degree with a concentration in Criminal Justice Administration. Matt enjoys teaching and passing on his knowledge to new and seasoned officers on how to best interact with youth.
When he's not working, Matt enjoys spending time with his wife, Amy, and their dogs. Matt is an avid musician, playing bass for nearly 30 years. Additionally, Matt serves on the board for HELP the Animals, Inc., a non-profit animal shelter.  As well, he is the Supervisory Committee Chairperson for a local credit union.