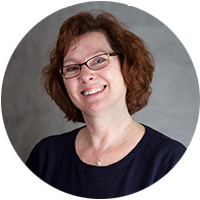 Colleen Walker
Office Manager/
Training Coordinator
Colleen Walker is a summa cum laude graduate of the University of Idaho with a Bachelor's degree in Clothing, Textiles and Apparel Design, and a minor in Drawing. Colleen continued her education working on a Master's degree while also teaching at the collegiate level.
Colleen's professional experience includes working as a Customer Service Representative, Vault Teller, and Bookkeeper in the banking industry. She was also a Dispatcher for the Latah County Sheriffs Office in Moscow, Idaho. As well she served as a State of Idaho Driver's License Examiner. Colleen's project and client management skills continued in her work as an interior decorator, and in her business designing and making wedding apparel.
While raising two children Colleen, along with her husband David, were certified and served as emergency foster care providers in their home for a number of children.
At SFY, Colleen is responsible for office operations and serves as the Training Coordinator, including logistical planning and preparation for SFY's training events.